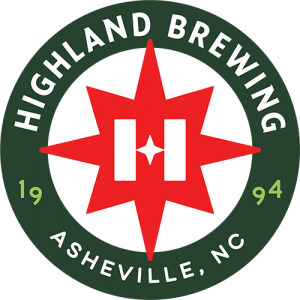 In December 1994, when downtown Asheville was sleepy, Highland rolled out its first kegs from the basement to the alley. Built almost entirely of retrofitted dairy equipment, our original brewery could produce up to 6,500 barrels of beer per year in about 12,000 square feet of space.
Today, we have capacity to brew over 60,000 barrels annually with room to grow. Until 1998, our beer was available only in kegs and hand-filled 22-oz. bottles. (We still fill our liter bottles by hand today.) That year, we added a four-head bottling machine which enabled us to start packaging in 12-oz. bottles. In 2002, a used Krones bottling line was installed, capable of filling 7,200 12-oz. bottles per hour. Although we brewed twice daily, four days per week, the demand for our beer continued to exceed supply.
We brew four times a day, five days per week on a 50-bbl brewhouse. Our cellar has 27 fermenters, mostly 200bbls in size, as well as 7 brite tanks. We can bottle up to 320 bottles per minute, averaging 800 cases per hour. Our bottling line is a state-of-the-art 2015 KHS 48-valve rotary machine. Our can filler, meanwhile, is a 2018 KHS volumetric 21 valve 3 head Ferrum seamer. This machine is capable of packaging 12 oz cans at a rate of 257 cans per minute(!).
Our 3-barrel pilot system allows for R&D and collaborations. Added in 2010, it allows for a stream of new beers that the staff and guests can taste.
In 2016 the view literally changed. We cut the ribbon on a rooftop bar that accommodates 300 people, and can be reserved for private events. We host weddings, rehearsals and corporate events. When not reserved, the rooftop is open to guests who are over 21. Below, the indoor Event Center welcomes over 700 people and is complete with stage, mezzanine, two bars, catering kitchen, and elevator.
We distribute Highland Gaelic Ale in the markets that are served by: