Beverage South of Aiken/Columbia (a J&L Ventures, LLC company), has won the "MillerCoors President's Award" for 2014. The award is given annually to the top performing distributors in the United States.
"The distributors who win this award represent the best of the best in our business," said MillerCoors President Tom Long.
"We go to work every day to be the best beer distributor in our market. From sales people to merchandisers to drivers to warehouse staff and operations personnel, we have the best people in the beer business," said Brad Genners, General Manager at Beverage South of Aiken/Columbia.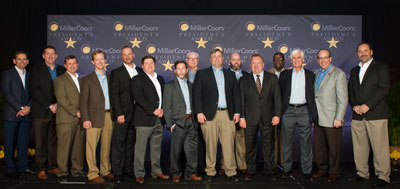 About Beverage South of Aiken/Columbia
Beverage South of Aiken/Columbia is a wholesale distributor for many of the leading brewers and beverage companies in the United States, including MillerCoors, Diageo, Heineken USA, Crown Imports, Pabst Brewing Co., D.G. Yuengling and Son, Boston Beer Company, Mike's Hard Lemonade Co., North American Breweries, Terrapin Beer Co., RJ Rockers Brewing Company, SweetWater Brewing Company, Lagunitas Brewing Co. and many more. Learn more at www.jandlventuresllc.com/BeverageSouthofAikenColumbia or facebook.com/BeverageSouthofAikenColumbia.
About MillerCoors
Through its diverse collection of storied breweries, MillerCoors brings American beer drinkers an unmatched selection of the highest quality beers steeped in centuries of brewing heritage. Miller Brewing Company and Coors Brewing Company offer domestic favorites such as Coors Light, Miller Lite, Miller High Life and Coors Banquet, as well as innovative new products such as Miller Fortune. Tenth and Blake Beer Company, the craft and import division, offers beers such as Leinenkugel's Summer Shandy from sixth-generation Jacob Leinenkugel Brewing Company and Blue Moon Belgian White from modern craft pioneer Blue Moon Brewing Company. Tenth and Blake also operates Crispin Cider Company, an artisanal maker of a variety of hard apple and pear ciders. The company imports world-renowned beers such as Italy's Peroni, the Czech Republic's Pilsner Urquell, Canada's Molson Canadian and the Netherlands' Grolsch. MillerCoors also offers pioneering new brands such as Redd's Apple Ale, Batch 19 Pre-Prohibition Lager, Third Shift Amber Ale and Smith & Forge Hard Cider. MillerCoors seeks to become America's best beer company through an uncompromising promise of quality, a keen focus on innovation and a deep commitment to sustainability. MillerCoors is a joint venture of SABMiller plc and Molson Coors Brewing Company. Learn more at MillerCoors.com, at facebook.com/MillerCoors or on Twitter through @MillerCoors.